Overload Artist Table Registration
NOTE: Currently closed until we open 2020 Artist Table Registration (aprox early February).  If you would like to be notified when registration opens, send an email to [email protected] requesting to be put on our Artist List. 
Welcome to Overload – you've reached our Artist Table Registration page! 2019 is our 14th year of Overload, to be held at The Cloud on the 28th of September, Saturday, 10am – 6pm. This page provides guidelines for indie artists wanting to sell and exhibit their own creations.
Note: If you are a registered company looking to sell commercially produced goods please book a 'Sponsor Booth' by contacting us at [email protected].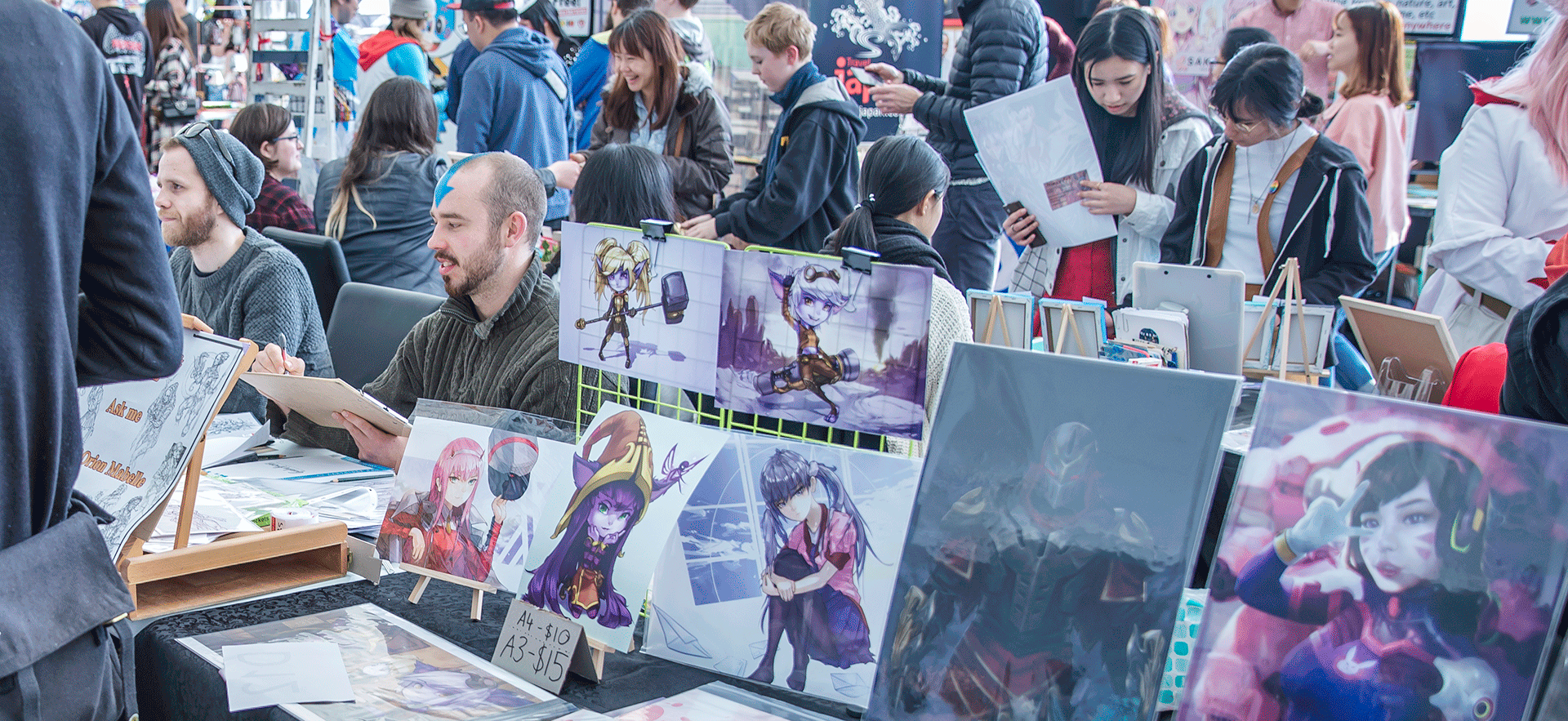 Overload artists are the Heart of Overload, they are what Overload is essentially all about. You can show or sell your own creations directly to the NZ Anime and Manga community. Registering here for Overload may be your first important step towards connecting with our community and your fellow artists.
If you have registered before, welcome back! Please note that we have changed your table options this year. At Overload 2019, there is only one table option – the 'Overload Artist Table'. You can sell your artwork and goods without worrying about whether you have the right table or not. The usual restrictions will still apply – All items you want to sell must be created by you and/or you must have permission to sell said items. Commercially made goods are still prohibited; although you may have created artwork and goods, if you are a registered company, please book a sponsor booth. 
What is an Overload Artist Table?
Any independent and amateur artists from NZ or overseas can sell their artwork and goods to our NZ Anime and Manga community at Overload on event day. By registering you will get a table somewhere within The Cloud Convention Centre, 2 chairs and 2 artist passes (Each table is $80). These artist passes will allow you to come early in the morning of the event day for you to set-up your table.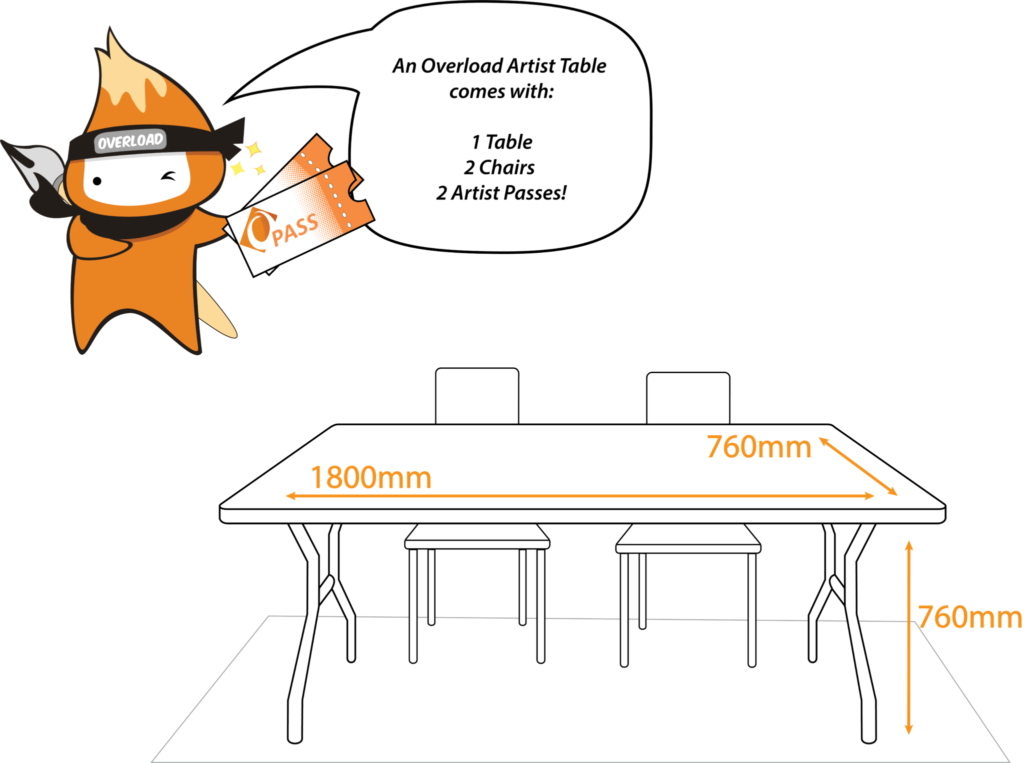 Please remember that the Overload Artist Table limits a maximum of 2 artists per table. If you have more than 2 in your group we suggest you book multiple tables. If you are an individual artist, you can share this table or bring a helper – the choice is yours. Please note that no electricity will be available at your table, and we do not provide any display panels to hang things on. We recommend you bring your own table cloth and prepare some creative and decorative displays for the table. Here are some cool displays from previous Overload artists tables:
Any goods designed and/or created by you can be sold here, as long as you are not a company nor selling commercial goods. Please bear in mind that our Overload Community's interests are Anime, Manga and Japanese games.
Popular goods sold at previous years' Overload Artist Tables are illustrations, posters, comics/manga, key chains, charms, games, book-marks, buttons, badges, plushies – our artists bring a lot of variety, and we hope you can too!

While most artists use their tables to sell art, we do allow artists to hold other activities at their table. However, please remember that you must not block your neighbors' tables. When conducting any kind of activity which will draw an audience or queue (portrait art, games, giveaways etc.) you must be mindful of guests, event goers, and fellow artists.
How Do I Register For An Overload Artist Table?
We only accept Online Registrations (the registration link can be found at the bottom of the page). Please read all sections of the form carefully before filling it out and ensure all information is entered accurately. Note that as part of the registration process we ask you to provide a profile image of 540px (w) x 768px (h), or of an identical aspect ratio. This profile will be displayed on our Artist List page.
Where Are The Overload Artist Tables?
Overload Artist Tables are located along the middle of the venue. These tables are split up into sections from A to F. You can select your table location on the online registration form.
Our venue is The Cloud Convention Centre located in the heart of downtown Auckland, on Queens Wharf. This 180m long landmark of Auckland's waterfront has been the host of Overload since 2016.

Important Information You Should Know
The person (or representative, in the case of a group registration) registering must be at least 16 years or older. A parent or guardian must provide consent for anyone younger. The person who registers is entirely responsible for any actions of your group or of the person who's sharing your table – they must read and understand all Terms and Conditions, and all communication will come through the provided email address. If you are that person, please make sure to pass on all important information to your fellow artists!
Artist Passes will be sent out on the 1st of September. If there are any changes to your mailing address, please update your mailing address before 9am, 27th of August. Any updates past this date won't be accepted (if you are unsure of your address around this date, an alternative is to pick up your pass at GNC). Any lost tickets sent by 'Standard Post' will not be re-issued and you will need to repurchase your artist passes. Artists who choose to pick their passes up at GNC can collect their passes from Graphic Novel Cafe (99 Shortland St. Auckland Central) with photo ID proof of identity.
After registration, please make all necessary payments within 5 business days. When we have confirmed your payment and details, we will send you a confirmation copy of the registration form. If you have any questions, please check out our Frequently Asked Questions page or contact us at [email protected]
By Registering online you are agreeing to be legally bound and to abide by all Overload Terms and Conditions. Please make sure you have read the entirety of the Terms and Conditions, and the Artist Setup Information before you complete the registration.
Click here to access the Overload Artist Registration Form
Thank you, and we look forward to seeing you at Overload 2019!