Virtual Guest Manga Author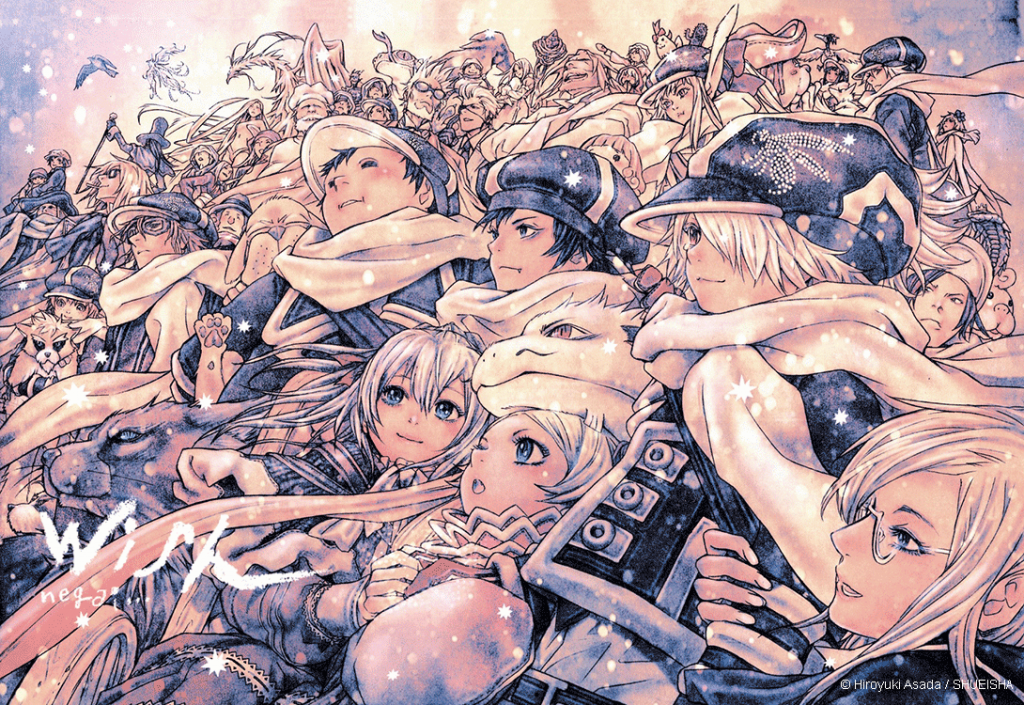 Hiroyuki Asada (born Feb. 15, 1968, Kanagawa) is a Japanese Manga artist, illustrator and Anime character designer best known as author of Tegami Bachi (テガミバチ), known in English as Letter Bee.
Interested in drawing and Manga from an early age, as a teenager he was inspired by the work of Hisashi Eguchi, Katsuhiro Otomo, and Atsushi Kamijo. Since his debut with Hades, winning an award in a 'Weekly Shonen Jump' manga competition in 1986, his work has mainly been published in Japan by SHUEISHA. His That's Bad, Yoshio! (BAD だねヨシオくん!) was a great success, showcasing his individual artistic technique. Basketball series I'll, also published in 'Monthly Shonen Jump' (1996), and still popular today, increased his fanbase with his trendsetting style and exceptional character art. With plenty of his work being published in English he developed a strong international following.
Asada's subsequent work has proven exceedingly popular. From 2006 Tegami Bachi was first published in 'Monthly Shonen Jump' and continued in SHUEISHA's replacement magazine 'Jump Square' ('Jump SQ') until 2015. This was consolidated into a 20 volume Manga, and also published in English by 'VIZ'. Then it was developed into 2 seasons of TV Anime, entitled Tegami Bachi and Tegami Bachi REVERSE. His work has appeared in several editions of Range Murata's 'robot' magazine, and his full colour PEZ series published by
WANIMAGAZINE was reproduced in English by new publisher DENPA in 2018. Recently the Animax TV series 'The Girl in Twilight' featured his character designs and concept art and he has provided character designs and illustrations for the remaking of TV Anime series Dororo (Osamu Tezuka).
Significant Works include:
To the Ghost World… (SHUEISHA, 1986)
That's Bad, Yoshio! (SHUEISHA, 1989)
Sleeping Rabbit (SHUEISHA, 1991)
Renka (SHUEISHA, 1994)
I'll (SHUEISHA, 1996)
Tegami Bachi (SHUEISHA, 2007; Viz Media, 2009)
Tegami Bachi Illustrations Shine (SHUEISHA,2011)
Hiroyuki Asada Illustrations Water (SHUEISHA, 2011)
PEZ (WANIMAGAZINE, 2004; DENPA, 2018)
風花雪月 HIROYUKI ASADA TEZUKA ALBUM (WANIMAGAZINE, 2019)
Pre-Autographed Merchandise
Due to the uncertainty of his attendance at Overload, pre-autographed exclusive 'Hiroyuki Asada Art Exhibition, Wish' merchandise will be available during the art exhibition being held at Graphic Novel Café (8-21 April) and then at Overload (24 April). 
Samples will be on display and can be pre-ordered at Graphic Novel Café from 1st of March. 
Merchandise Without Autograph
The following exclusive 'Hiroyuki Asada Art Exhibition, Wish' merchandise will also be available for pre-order and a limited quantity available during both the art exhibition and Overload event, but does not come with autograph. 
At the exhibition, exclusive merchandise will be sold on-site, with a limited number of autographed copies available. Please consider pre-ordering items above so as not to miss out! 
Graphic Novel Cafe
8-21 April 2021
Mon-Fri: 10.00am to 6pm  
Sat: 11am to 5pm
Sunday: Closed
Location:
99 Shortland Street Auckland Central
Overload 2021
24 April 2021 
Saturday: 10.00am to 6pm 
Location:
The Cloud Convention Centre, 89 Quay Street Auckland Central.