UPDATE: Artist applications for Overload 2024 have closed! Thank you for taking the time to apply, we hope to see you at another amazing weekend of Overload.
If you have any Artist Table enquiries, please don't hesitate to email us at [email protected]
UPDATE: Artist Applications will open for Overload 2023 will open January 14th to 16th – follow our socials for the latest news! To be added to our Artist Registration mailing list, click here to sign up
UPDATE: Artist applications for Overload 2024 have closed! However if you wish to be added to the waitlist, you can join our Artist Registration Mailing List 
If you're a registered Overload Artist needing to get in touch, you can email us [email protected]
Artists are the heart of the Overload New Zealand Anime & Manga Convention. It's a place where like-minded individuals can show or sell their creations directly to the vibrant New Zealand anime and manga community. Whether you're a returning artist, we appreciate your ongoing support, or if you're new to our event, we're delighted to make your acquaintance!
KEY CRITERIA
All items sold by you or on your behalf must be designed or created by you. Commercially made goods are strictly prohibited.

Agree to Overload Artist Terms & Conditions. It provides insights to what cannot be sold and is essential to read and understand, as any application that violates Overload's T&Cs will be disqualified.

Relevance to Overload audience.

Only one person may register to book an Overload Artist Table.

Registration covers a two-day period, and your table must occupy both days.
APPLICATION PROCESS
Overload 2024 will be adopting a lottery system inspired by Japan's Comiket, where applications will open for an extended period of time. Applications that meet the initial screening criteria above, will then be randomly selected and offered the chance to complete their Overload Artist Registration and secure an Overload Artist Table. It's important to understand that submitting an application does not guarantee a table spot.
This approach maintains our commitment to fairness while still being manageable for our small organising team.
IMPORTANT TO NOTE!
No more than two people per table is allowed at any time.

(for Health and Safety reasons).

Maximum display height 2.3 metres high (see diagram above).

We do not provide any display panels or tablecloths; we recommend you bring your tablecloth and creative methods of display (so long as they adhere to the H&S rules).
HOW TO APPLY
Applications for Overload 2024 Artist Tables will be open from 1 November 2023 at 9AM and close 11:59PM on 14 November 2023 via google forms. You will have 14 days to submit an application, be sure to take your time filling out your details correctly.
UPDATE
Artist applications for Overload 2024 have closed! Thank you for taking the time to apply, we hope to see you for another amazing weekend of Overload. 
If you have any Artist Table enquiries, please don't hesitate to email us at [email protected]
Thank you, we hope to see you at Overload 2024!
Examples of Art Table displays
Tell me more about the lottery system!
There will be three steps to the lottery system: Application, Lottery & Registration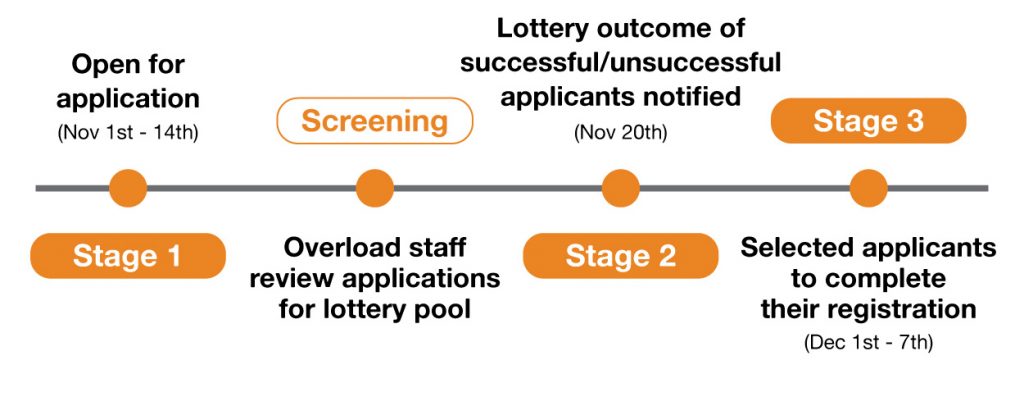 Step 1: Application 
Online application is open from 1st November 2023 to 14th November 2023. 
The form will require the following information:
Contact information

Your preferred type of Overload table (Standard/Special)

Social media link/s

Photographs of items you intend to sell (incomplete work, similar items you sold at previous Overloads or other events are acceptable) Please refer FAQ for more details.

Any special requirements regarding table allocation (e.g. access for disabled, etc.)

     
All applications will be screened to ensure adherence to the terms and conditions (i.e.: appropriate for Overload, no bootleg, no commercially produced items, no traced artwork, etc.). Fan art and fan crafts are acceptable. Your art style and skill level do not affect eligibility.
Please note: only 1 entry per artist, multiple entries will be discarded. If you are sharing your table with another artist (secondary artist), please provide the secondary artist information on the Application form.
We do our best to ensure plenty of Overload Artist Tables are available for our more enthusiastic and dedicated artists, especially local, independent and creative amateurs. 
Step 2: Lottery 
Once the application period has closed and the screening procedure is complete the eligible applications will be entered into the lottery. A randomiser will select 211 applicants from the lottery pool (15 Overload Special Tables & 196 Overload Standard Tables). All lottery applicants, both successful and unsuccessful, can expect to be notified by 20th of November 2023. Unsuccessful applicants will be added to the Waitlist.
Step 3: Registration
Successful applicants will receive instructions for the next steps to complete Artist Registration and secure a table. Special Table registration must be completed on 1-2 December and Standard Table registration on 3-7 December. Failure to complete registration will result in your table being offered to an artist randomly selected from the waitlist. 
If you have any questions, please don't hesitate to contact us at [email protected]
Do I need to provide artwork or merch images for the new application process?
Yes. We want to ensure that applicants meet Overload Artist Table criteria, which allows us to make more tables available for dedicated and creative local artists. Your art/design styles and skill level will NOT affect your application.
Examples of your work do not have to be new work. 
You can use photos or images of your artwork (goods) you sold at previous Overload or other conventions.
I'm New! What is an Overload Artist Table?
The Overload Artist Table is how we support our community of Anime and Manga creatives, by providing an affordable platform for fans and enthusiasts to sell their artworks and goods to the New Zealand Anime and Manga community – think Comiket! We welcome artists both local and international, amateur and professional.  Registering for an Overload Artist Table is a fantastic way to connect with the community and your fellow artists.
All items sold by you must be designed or created by you. Fan art and fan crafts based on Asian media (i.e.: anime, manga, manhwa, manhua, donghua, live action TV shows, video games, phone games, etc.) and western pop culture series are accepted. Overload Committee defines fan art and fan crafts as your original work based on licensed, copyrighted material and characters. Overload Artist Tables are not for companies selling commercially licensed goods.
Please bear in mind that our Overload Community's interests are Anime, Manga and Japanese games.
Popular goods sold at previous years' Overload Artist Tables include illustrations, posters, comics/manga, key chains, charms, games, book-marks, buttons, badges, plushies and portrait services – our artists bring a lot of variety, so feel free to experiment with your creativity!

While most artists use their tables to sell art, we do allow artists to hold other activities at their table. However, please remember that you must not block your neighbours' tables. When conducting any kind of activity which will draw an audience or queue (portrait art, games, giveaways etc.) you must be mindful of guests, attendees, and fellow artists.
I am an artist but can I book a Sponsor booth?
Yes. If you are an artist wishing to support Overload in a different capacity, you can enquire about booking a Sponsor Booth by contacting us at [email protected]
Can I transfer/on-sell the rights of my Overload Artist Table registration?
If, due to unforeseen circumstances, the registered artist cannot attend the event, your registration can be transferred ONLY if there is an artist from the waitlist who is willing to take your table – the waitlist artist will be selected at random by Overload Committee.  Only then can your registration be transferred and registration fee refunded (excluding processing fees). Contact [email protected].
Important: No transfers of tables will be considered after 20th of March 2024.
I won the lottery from the application process however I can't register due to unforeseen circumstances. Can I transfer it to another artist?
We are sorry to hear that you can not complete the registration. The lottery is not transferable to a nominated artist of your choice, however, it will be offered to an artist randomly selected from the waitlist.
I am a company that sells Anime goods and keen to have a table or booth at Overload. Do you have an Exhibitor space?
Thank you for showing interest in having a booth at Overload. Yes we have a Sponsor Booth option for companies, schools and artists. Please contact us at [email protected] for more information.
If Overload cannot be held due to an emergency, what happens to my registration?
If we are unable to hold Overload due to an emergency, we will postpone it.
Your registrations will still apply for the new date. If the new date isn't suitable for you, you must request a refund of registration fee within two weeks of the postponement announcement.